On Jan. 9, two newly elected and one re-elected school board members were sworn in as the newest members of the Moorhead School Board. Lorilee Bergin, Dave Marquardt and Keith Vogt (incumbent) were elected in November and began their terms at the beginning of January. The other Moorhead school board members include Melissa Burgard, Cassidy Bjorklund, Scott Steffes and Matt Valan.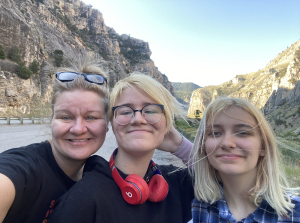 Lorilee Bergin
Lorilee Bergin has been an elementary teacher for many years and currently teaches 5th grade in Fargo. "The thought of my 5th grade class being unattended makes me jump out of bed in the morning and get to school early. This is my part in saving the world," said Lorilee. "I love seeing the light bulb moments, trying new things, celebrating student successes, learning from our failures, building relationships with students and their families. In between all that I struggle to keep up with several pacing guides while also differentiating for all the individual needs of the students.
Lorilee purchased her home in Moorhead specifically to enroll her children in MAPS. "I read everything I could find on all of the schools in FM. I chose Moorhead for my children. My daughters have had amazing teachers and wonderful opportunities including Spanish Immersion, the orchestra and Destination Imagination."
Spending time with her two daughters is Lorilee's favorite thing to do. They all love learning new things, traveling, going to museums (especially science museums), attending concerts, being outside, reading books and watching documentaries. When she is not hanging out with her daughters, Lorilee is working on her historic house that she enjoys learning how to repair.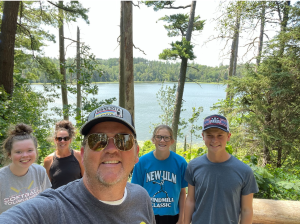 Dave Marquardt
Dave Marquardt is also an educator. He taught and coached in Fargo for 21 years before his current role as a K-12 Field Consultant with North Dakota United,. He is also Program Director with Moorhead Crush Fastpitch and a member of the Moorhead Parks and Rec Advisory Board. He and his wife Mindy own a furniture refurbishing and home decor business called County Rd 13.
"Moorhead has a smaller community feel to it and you get to know many people in our community. Scheels and the historic Dairy Queen are on the top of the list for my Moorhead favorites. I also think the new Career Academy is just the best thing for our community," said Dave.
The Marquardt's have three children. Leah (2022 Moorhead graduate) is a freshman at Moorhead State; Lincoln is a junior and Avery is in 8th grade. And we can't forget the family dog, Newman.
In his spare time, Dave enjoys coaching his kids and spending as much time as possible in the family camper.
Keith Vogt
Keith is not a new face to the MAPS team. A current board member, he was reelected for a second term.
Keith is a Customer Success Account Manager at Microsoft and has lived in the FM area since 1999, with a brief time in Phoenix, AZ. While he enjoys Moorhead parks, bike paths and golf courses, his favorite place in Moorhead is Bluestem because of the great entertainment offered in that hidden gem.
Keith is an advocate for Moorhead Area Public Schools. "We have some great opportunities available to us as Spuds with a variety of classes and extracurricular activities. I really enjoy seeing our large orchestra classes perform as well as attending the musicals at Moorhead; they're top-notch."
Keith and his wife, Amy have four kids; two in middle school and two in high school. When he is not at work or school board meetings, Keith enjoys attending his kids activities and various events around the FM area. Some of his passions include exploring nature, photography, and travel -- even a quick trip to Maplewood or a nearby lake.