We are excited to share monthly construction updates during this school year. Things are changing quickly at the Moorhead High School construction site and we want to document the progress. Each month, we will be on site highlighting an individual area.
Watch a video walkthrough, or check out the highlights below. Click here for past updates.
The focus of the October construction tour is the impressive gym and pool areas. Walking into the building, you will be in the athletic commons. This area will connect the new building to the Moorhead Sports Center. You will have a nice view into the gym with glass doors welcoming you into the space.
The gym has two levels, the second level has a three lane track and standing room for people to watch games from above. The main level has bleachers that pull out to the court. The gym has room for 3,000 people to watch games.
Next to the gym is the weight/cardio room. This two-level space has a full wall of windows looking out onto the athletic fields. Students on the second mezzanine level can look out on the weight room below and the fields outside.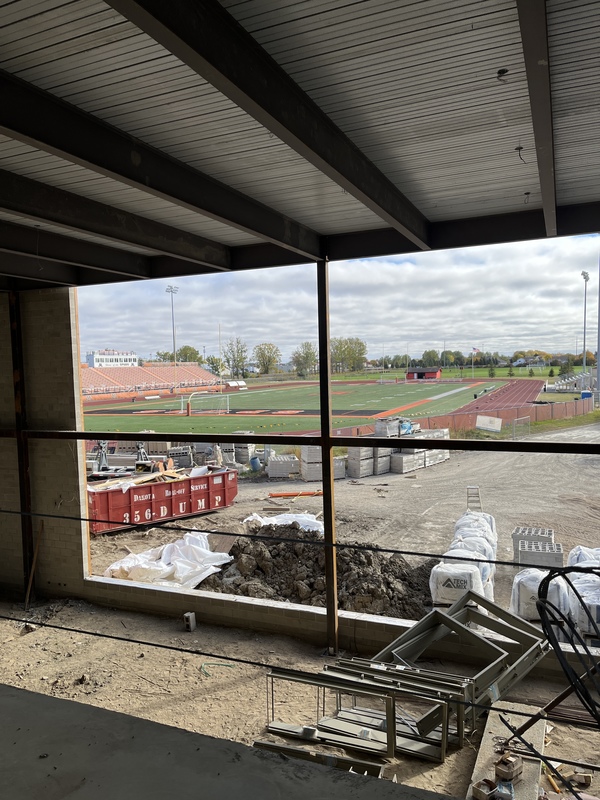 The pool is located on the north end of the gym. There are windows on the second level that look into the pool area. The pool is the same length as the current pool, but is wider and has two more lanes. There is room for 300 spectators in the pool area.
Can you picture the space? Check back as we give you mini previews into the construction progress at Moorhead High School!