When our schools are in need, staff, families and community members show up for our students. This rang true recently when Robert Asp Elementary Art Teacher Michelle Sailer ran into an issue and reached out for help.
It was a regular school day when a Kindergarten student had an accident during art class. Sailer went to the health office to look for a change of pants for her student. Upon searching through the inventory, all she could find were a pair of shorts and pajama bottoms. That's when Sailer asked the community through social media for children's pants donations. As word spread, Sailer realized that their situation was not unique. Children's clothing in sizes 4-7 were out of stock everywhere, making it difficult to buy extra pants.
When Moorhead High School Teacher Jean Sando heard about the problem the elementary schools were facing, she stepped into action. Sando, an avid sewer, makes costumes for Moorhead Schools productions. She went back to social media and within an hour had $150 in donations. "Other people stopped by my room to donate money and we ended up raising over $200 for the budget in no time," Sando says.
On top of money donated, Sando received fleece and volunteers to help sew. Another interested community member heard about the project and volunteered the sewing space in their building. "I'm so pleased and so touched at how quickly everyone reached out to help," Sando exclaims.
With everything in place, the group gathered on Nov. 6 to sew, a venture they named: the Pants Project. The nine volunteers included teachers from a number of Moorhead Area Public schools, retired staff and community members who wanted to help. Through teamwork, the group stitched 32 pairs of fleece pants in only three hours. Michelle Sailer is simply amazed with the response, "Students no longer need to worry, because the cupboards are stocked."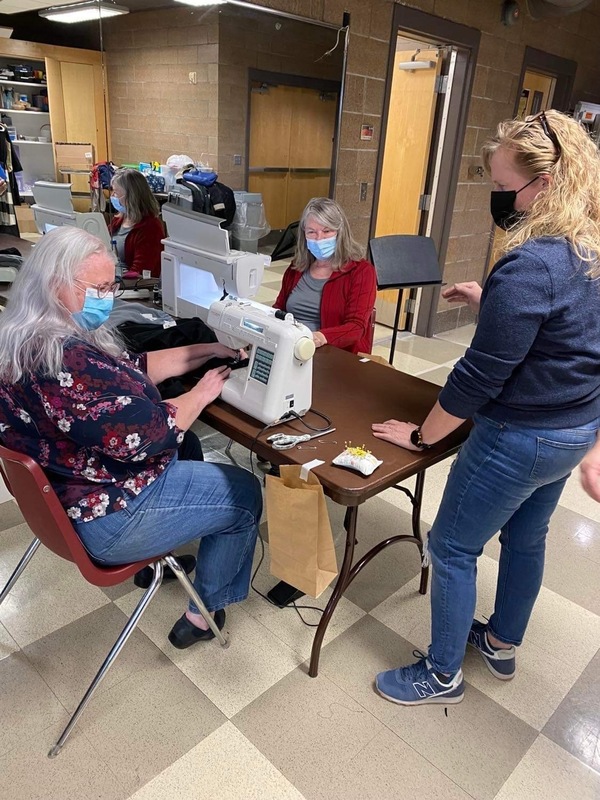 Even with the cupboards stocked, the Pants Project isn't done yet. The team has plans to get back together to finish sewing pre-cut pants they didn't get to the first time around. Moorhead elementary schools will be getting another donation from the Pants Project team. Jean Sando sums up their work perfectly, saying "I can't solve the big problems of the world, but I can solve the little ones. Together we can make things a little easier for a few kids, and that was the point of this project."