Moorhead High School junior Elinneus Davis has dreamt of playing in the NFL since elementary school. Today, he's already receiving scholarships to Division 1 football colleges thanks to his dedication and support from family, friends and coaches.
Originally from the Twin Cities area, Davis and his family moved to Moorhead when he was in middle school. The transition was difficult at first, but Davis says he quickly felt welcomed into the Moorhead community.
Now, as a junior at Moorhead High School, Davis is a well-known student and incredible athlete. MHS Assistant Principal Spencer Stowers says, "Elinneus excels in the classroom and in many activities on campus. He is a three sport athlete for the Spuds, playing football, basketball and track. Last year, he placed at state in the spring and is now thriving on the football field. He continues to be a great example for all."
Where did his love and talent for football begin? Davis credits his mother as the one who pointed him in the right direction when she signed him up for a football team in third grade. His love for the game quickly grew as he scored touchdown after touchdown during his first few times on the field. Davis and his father watched NFL games after church every Sunday, which is where his dream to be in the NFL began. Even at a young age, his parents never stopped encouraging him to reach his goals. "My parents believed in me the very first time I said it," Davis remembers.
He returns his parents' support by helping them at their African Market in town whenever he has extra time from his busy school and sports schedule. "My father often works there alone, so I like to help in every way I can," Davis says. "I work after practice and do my homework at the store during slower hours."
Besides the support from his family, Davis says that his coaches are also one of his biggest motivators. While they push him to work hard on and off season, his coaches also help him build his career. "Coach Feeney basically put my name out there. I owe my credit to him," Davis says. "It's awesome to have those types of people around to encourage you, push you and to help you to succeed in the future."
One piece of wisdom that has impacted him the most, Davis explains, is something his coach told him this summer. "He told me to play every single play like it's my last one. That's what I've been living by this whole season." It's clear that this motto has worked, as Davis recently received two scholarship offers from Iowa State and North Dakota State University.
With these two scholarships under his belt, Davis is excited to take the next step in his journey towards a career in the NFL. While he isn't positive yet which school he will go to, he likes all his current options and will lean on his parents for guidance when it comes to making the final decision. Davis is also thinking about following in his father's footsteps by majoring in business.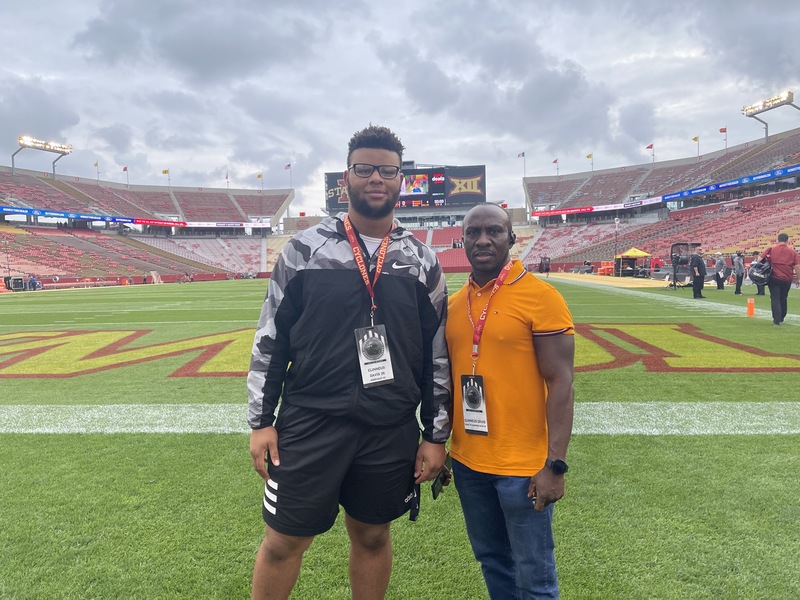 Elinneus says that none of this could be possible without the support of his friends, family and coaches."I'm most grateful for the people around me. I've heard people talk down on their dreams, but no one in my life has ever told me that I can't. The support around me is just a blessing."