Participating in extracurricular activities is about more than liking a sport or being on stage. It's about making connections with your peers and cheering on your friends. When Tate St. Louis brings up favorite memories, they all center around the people he loves.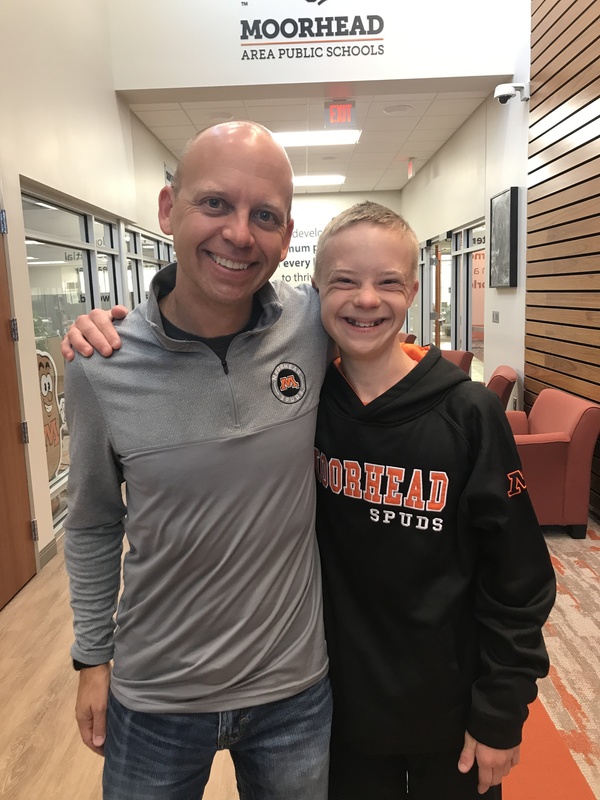 Tate is an eighth grader at Horizon Middle School. He is living by his family's motto "We are more alike than different." After participating in track and field last year, Tate joined cross country and enjoys distance running alongside his friends.
Tate's sister Avery, mom Liz and dad Josh are all runners. Tate started his running journey after jumping on the treadmill to prepare for a summer trip. The St. Louis family spent two weeks on the road and traveled to 11 states. The family hiked at Arches National Park, Joshua Tree National Park and Muir Woods National Monument. Josh says, "We got Tate on the treadmill to prepare for longer hikes and he really enjoyed it."
Although running is an important part of cross country, Tate really lights up when talking about his teammates. "My favorite part of being on the team is cheering for my teammates," Tate says. They are also his main source of motivation as he is finishing a race, which he exclaimed feels awesome. When he crosses the finish line and sees his coaches, family and friends cheering him on, he lights up.
Coach Dan Dooher says Tate's enthusiasm for his teammates is outstanding and that it has been a joy having Tate on the team this year. "His coaches are proud of the efforts he has made throughout the season as a runner," Dooher says. "I have especially enjoyed my conversations with Tate during practice and on the way to meets. Whether we are talking about the latest football game or joking around about who could eat more pizza, Tate's good nature and positive attitude has been a great addition to our team."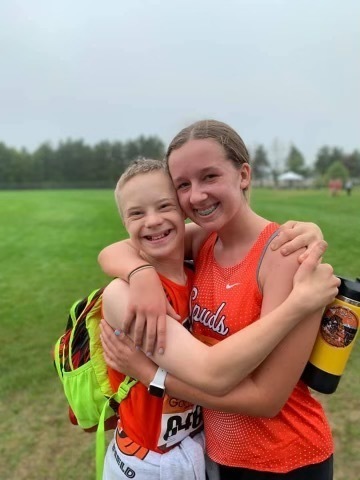 At school, Tate's favorite class is Social Studies. He loves learning about history and enjoys spending time with his teacher, Ms. Holten. Outside of class and cross country, one of Tate's favorite hobbies is football. His favorite team? The Green Bay Packers. While Josh's favorite team is the Vikings. Tate jokes with his dad, "You're teasing yourself… the Packers are better!" It's all in good fun. Josh explains, "He is a very good contrarian. No matter what sport we are watching, he will ask me what team I am cheering for and pick the opposite team."
The St. Louis family feels grateful for the district and the coaching staff and their work on inclusion. "It's good for Tate to have opportunities to hang out with typical peers and it's good for the runners to be able to see someone like Tate able to compete and perform with them as well."
Tate's goal? To help people recognize that he's not that different. Going back to the St. Louis family model, "We are more alike than different." As Tate continues his cross country season, his main wish is to run closer to his friends. He plans on working hard to run the entire race so he can cross the finish line and cheer on his teammates.