Moorhead students are excited to be back celebrating their Spud pride this fall after a year of missed homecoming activities due to the pandemic. The kick-off to homecoming week started on Sunday, Oct. 3 with the Moorhead High School coronation ceremony. Martan Gregoire and Autumn Gronwold were crowned king and queen of the 2021-22 homecoming court.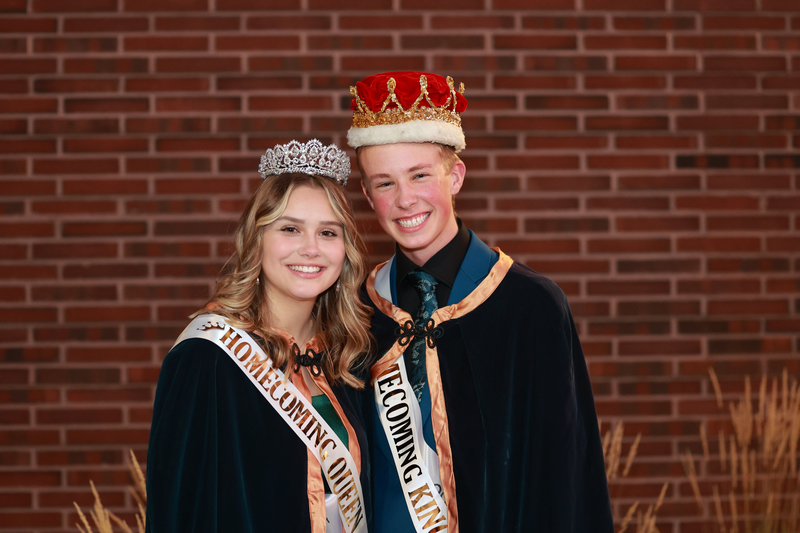 Other members of the homecoming court include: Raymond Altenbernd, Austin Altepeter, Fatima Amedi, Giulio Angotti, Haleigh Cleem, Isabella DeJean, Ignacio Delgado, Hailey Floberg, Anna Galvez, Zach Hanson, Elliot Hoff, Cora Huls, Mya Pfiefer, Andrew Searls, Jack Teiken, Maria Zanotti, Carson Zimmel and Jada Zurn.

Both the homecoming king and queen are beaming with Spud pride as shown by their involvement in school and community activities. Queen Autumn Gronwold is president of the National Honors Society and the team manager for girls lacrosse. She is also involved in the Sandford Med X Program and Students Against Destructive Decisions. In her free time, Gronwold collects unique coffee mugs and goes antique and thrift shopping. After graduation, she plans to major in biology and minor in Spanish at North Dakota State University and wants to continue on to medical school in hopes of becoming an OBGYN. Her favorite memory in high school has been the labs in her anatomy class, as well as the bus rides and overnights with the girls lacrosse team. Gronwold says her role model in life is her mother because she has shown resilience with every obstacle life has thrown at her. She feels that she would be lucky to have even an ounce of her mother's strength throughout her lifetime. To future Spuds, Gronwald's advice is, "Prioritize having a balanced lifestyle when it comes to work and play and care for all parts of yourself, whether it be physical, mental or emotional. Most importantly, always be kind."
Homecoming king Martan Gregoire is also involved in a multitude of activities such as MHS Theatre as student choreographer, team and category captain of the MHS Speech Team, president and section leader in choir, secretary of the National Honors Society, a MHS Caroler, involvement with the Trollwood Performing Arts Center, playing the piano and participating in dance at Dance Studio Elite. To Gregoire, leadership means being a good example for everyone and doing everything you can to help those around you who need it. He plans to study music education in hopes of becoming a choir teacher after college. According to Gregoire, "my role models are Mrs. Brekke, Mr. Cole and Ms. Wilts. They are the ones who helped me realize that I want to be a music teacher and showed me the kind of teacher I want to be." His favorite memory in high school was being on the Newsies homecoming float in 2018. He said it was so much fun and it felt good to be involved in such great high school experiences. Last but not least, Gregoire's advice to future Spuds is to have as much fun as you can and be involved in as many activities as you can, because the time goes by too fast not to have fun!
It's clear that Moorhead High has chosen two awesome Spuds to represent this year's court. The homecoming activities will continue with events happening all week long:
6 p.m. Tuesday, Oct. 5 - Girls Swimming, MHS Pool

7 p.m. Tuesday, Oct. 5 - Girls Soccer, Jim Gotta Stadium

7 p.m. Thursday, Oct. 7 - Boys Soccer, Jim Gotta Stadium

1:30 p.m. Friday, Oct. 8 - Career Academy Grand Opening, MHS Career Academy

4 p.m. Friday, Oct. 8 - Homecoming Parade, 20th Street South beginning at 24th Ave toward 12th Ave

6 p.m. Friday, Oct. 8 - Football Game, Jim Gotta Stadium
We are excited to recognize the 2020 and 2021 Hall of Honor inductees as well as the 1971 state football championship team. There will be fireworks and a flyover after the game.

11 a.m. Saturday, Oct. 9 - Hall of Honor Celebration, MHS Career Academy

6: 30 p.m. Saturday, Oct. 9 - Moorhead Legacy Education Foundation Gala, Moorhead Armory Event Center