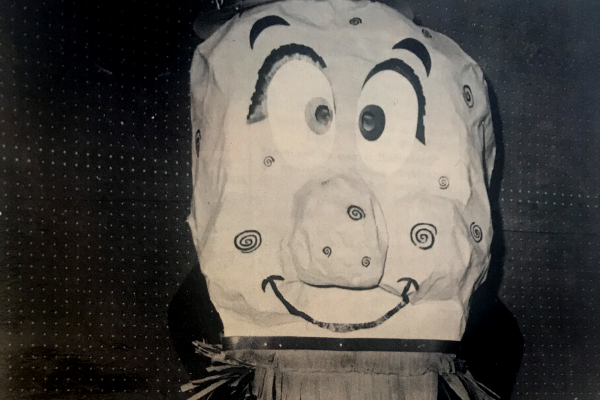 "There are people who came before us, and there are people who will come after us. Everything that we enjoy about our community, there's somebody in the past who made it happen," said Brian Cole, Horizon Middle School Teacher. "It's our job to preserve it, tell it and then get ready to pass it on to the next generation."
In 2016, Brian Cole served on a committee to help name the newest school. He never could have imagined the project that would unfold from this task. Helping decide who to name a school after was quite the project. Cole didn't know a lot about the history or key figures of Moorhead Area Public Schools, but he enjoyed history, so he began researching.
While researching, Cole came across incredible stories. He approached Dr. Lynne Kovash, who was the district superintendent at the time, was astounded at all the inspiring stories he had found. Amazed by his findings, she said, "Brian, when I retire, let's write a book about all these stories."
Dr. Lynne Kovash died in 2019, but the seed she planted empowered Cole. With the 150th birthday of the district approaching, he applied for and received a grant from the Minnesota State Historical Society to help with data collection and writing of a book about the history of Moorhead Area Public Schools. The book is set to be published in 2023, for the 150th birthday of the district. All proceeds from book sales will go to Moorhead Legacy Education Foundation (MLEF) programs, which fund student scholarships, staff impact grants and other educational funding.
The informal research for the book began three years ago. Cole, a full-time teacher during the school year, has spent the summers combing through all kinds of information. He has pieced together key events, details and important figures in Spud history through school newspapers dating back to the 1930s, high school yearbooks and city newspapers dating back to the 1870s. As of right now, Cole has 6,000 digital notecards full of information and ideas for the book. "The writing of the book hasn't quite started yet. I'm trying to find between 2,000-3,000 photos for the book."
Cole has worked with the Historical and Cultural Society of Clay County with archivist Mark Phiel, North Dakota Archives, Concordia College Archives, Minnesota State University of Moorhead Archives and the Minnesota State Historical Society in St. Paul, where there are actually dozens of boxes of Moorhead School archives. Cole said, "Right now, it's a lot of manual work, connecting pieces of history together."
Over three years ago, Cole came across a picture of Margaret Newton. Newton graduated from Moorhead High School in 1910 and began teaching music in the district by 1916. She was very well known in the community and one of the only music teachers in the district for many years. Newton taught for over 43 years, and retired in the late 1950s. "She was a legend. Everyone knew who Ms. Newton was. She put on these incredible Christmas pageants in downtown Moorhead. All five elementary schools would send their kids, and it was a huge production. Everybody went. She was beloved by the whole district and community," said Cole.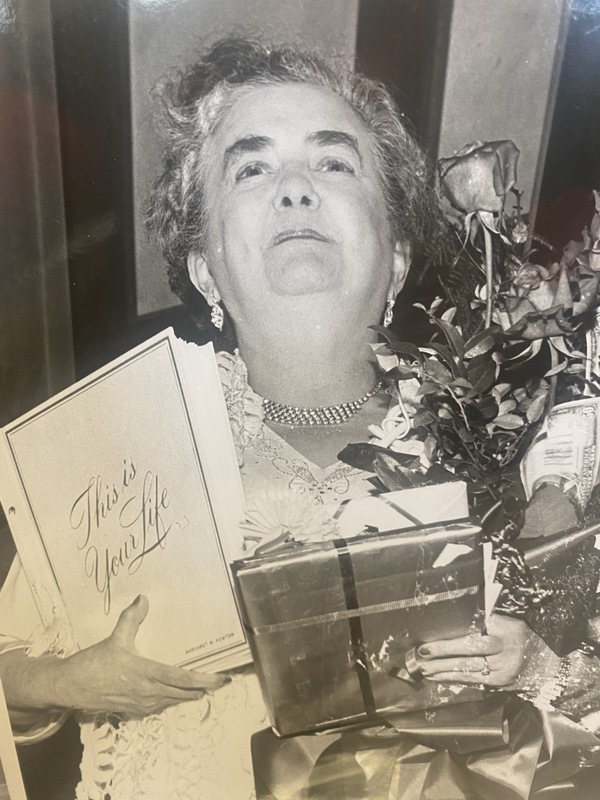 When she retired in the 1950s, she celebrated at a large party and received a scrapbook. The Fargo Forum pictured her holding the thick scrapbook, titled "This Is Your Life." It was full with notes from former students and community members. The notes thanked her for all that she did in the district and community.
Cole said, "I remember seeing that picture a few summers back and thought how awesome it would be if that scrapbook still existed, but that picture was 60 years ago. There's no way that scrapbook would still be around."
This summer, while looking through boxes in a museum, Cole came across that same scrapbook from 60 years ago, tucked away in a box. It contains hundreds of letters and memories dating back to the early 1900s.
As Cole researches, he never knows what story he's going to find and what connections he will make. He says it's inspiring when he comes across a new story of someone who did something. "It may seem like an ordinary, small thing - but it is remarkable because it made our community what it is today."
Cole said, "That's what motivates me. There's all these little stories. There's so many people in our past who have laid the groundwork for our community. Now it's our job to care for it and get ready to pass it on to the next generation."
The publisher has found a way for over 28,000 graduates to have their name included in the book. The book will honor every student who has ever graduated from MHS, all the way back to the 1880s. Cole said, "We all leave our marks. We all leave our legacy whether we intend to or not. We will honor that."
As the research continues, Cole is looking for unique, candid snapshots that wouldn't have been in yearbooks or newspapers. If you have items or pictures of historical significance, reach out to Brian Cole at bcole@moorheadschools.org. Items can be donated or lent.