December 28, 2020
*all pictures are from pre-pandemic events in 2019
It's January 25, 2020 and 84 athletes are lifting weights at the 5th Annual Spud Thud. Corey Delorme is video streaming this all-day weightlifting competition for the first time in Spud history. Student Cole Darling is helping Delorme behind the computers and cameras. The energy in the room is buzzing as Senior Chrisanto D'Agostino steps up to the mat. D'Agostino performs his third and final clean and jerk. As he drops the weight to the ground, he breaks the Minnesota state record for the first time in 20 years. SpudsTV captured it all, allowing the moment to be shared with anyone connected to the internet.
SpudsTV provides audio and video services for Moorhead Area Public Schools. Corey Delorme, Larry Knutson and Rick Westra are the faces and voices of SpudsTV. But Delorme is quick to point out that SpudsTV is a community effort.
Delorme, Knutson and Westra created SpudsTV after Moorhead High School Boys Hockey Coach Jon Ammerman approached them with a request. Ammerman wanted to know if they had ever thought about live-streaming hockey games. The idea may have started with streaming a hockey game, but what the trio had in mind was much bigger.
During one of the very first games Delorme, Knutson and Westra live-streamed, the group talked about SpudsTV in more detail. They envisioned a service that would stream athletics, as well as orchestra concerts, prom grand march and other fine arts and student activities. Beyond streaming Moorhead athletics and activities, they had a vision to teach Moorhead students about broadcast journalism through on-the-job training. This initial conversation sparked an idea that developed into what SpudsTV is today.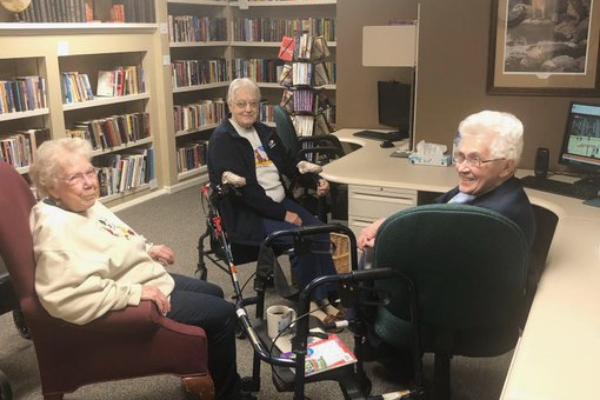 In 2019, Moorhead Volleyball player, Carleigh Vedder's grandma, Ellen, watches SpudsTV with her friends at her retirement home in Fergus Falls.
Mentoring Students
One of Delorme, Knutson and Westra's primary goals was to teach and mentor students interested in broadcast, announcing, filming, technology and sports journalism. For example, Moorhead High School Senior Riley Swenson has been announcing play by plays for SpudsTV. He hopes to go into sports journalism as a career. Sophomore Cole Darling has been working for SpudsTV as well. "That kid bleeds orange. He is so full of spud pride, it's awesome," Delorme says.
What started out as a first job for Cole in December of last year, has turned into a possible career pathway. "Working for SpudsTV has opened me up to a possible career in audio design, news or television," Cole says. "I am interested in technology and filming, so this job seemed like a fun way to get into it." Cole started this position with an interest, but no working knowledge of the industry. He has learned a lot on the job.
Wes Darling, Cole's dad, sees his son's excitement about working for SpudsTV. "It's always encouraging to see your kids wanting to try something they have never done before. I have seen Cole's excitement grow while learning new skills," Wes says.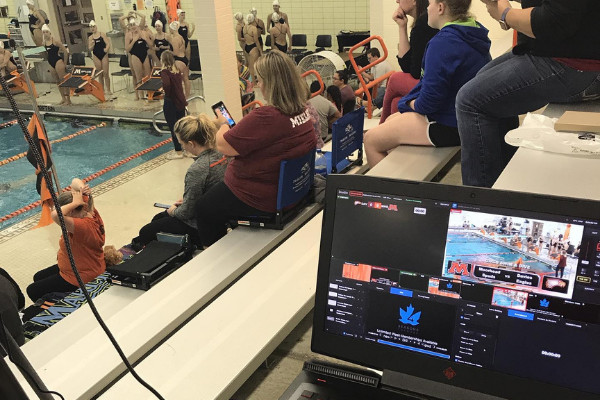 A look at the streaming setup at a swim meet last year.
Community Partnership
Delorme says they have had tremendous support from the community. During the pandemic, SpudsTV has increased content streaming requiring an investment in more equipment. The team recognizes that SpudsTV wouldn't be possible without the generosity of numerous sponsors. The increase in events also requires more filming time and SpudsTV is thankful for many individuals who volunteer their time to help.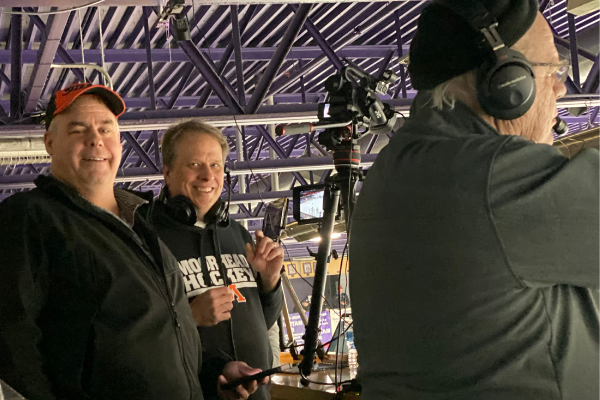 In 2019, Gregg Gess and Mark Moilanen, boys hockey parent helpers, stream a game in Buffalo with Larry announcing.
A new sponsorship deal this year is allowing SpudsTV to increase awareness across the community. A Muscatell Subaru sponsorship allowed SpudsTV to create a custom branded Subaru Crosstrek. "Subaru is a community-based company. They always help through different aspects of donation, events and education," claims Wes Darling. In addition to being Cole's dad, Wes works on the Sales Team at Muscatell Subaru. "Ward and Deb Muscatell always help the community as well, especially when it comes to the schools."
SpudsTV is a community project, brought together by many individuals. Delorme, Knutson and Westra provide a service to the Moorhead community that not only brings people together but also teaches the next generation. "SpudsTV is one of the most fulfilling things I have done professionally, because of the joy and the appreciation we receive from athletes, families, and friends," Delorme says.