September 24, 2020
Our Spud sports teams continue to show off their hard work each week during their competitions, below are a few highlights from recent events.
Moorhead competed in the Shocky Strand Triangular with Sartell and St. Cloud Apollo on Sept. 17. Boys cross country took first place for both junior varsity and varsity events. Evan Myran won the varsity boys race with a time of 16:22. Girls cross country took second place behind Sartell but were victorious over the Eagles.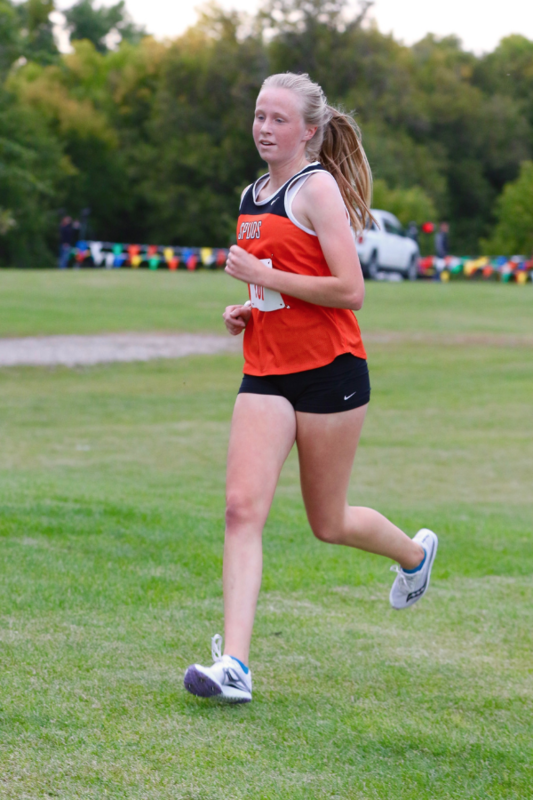 Carlie Sheldon (pictured) was the top finisher for the Spuds girls race with a time of 20:24. The teams traveled to Sartell on Sept. 24 for their next set of races.
The Moorhead girls soccer team shut out the Lumberjacks 4-0 in the game held at home on Sept 14. Olivia Watson added three goals to her tally of 31 goals on the season. Maria Zanotti scored the other goal. Goalkeeper Emily Soukup had 11 saves in the shutout. The Spuds are 6-0 on the season and have outscored their opponents 57-0. The Spuds will next play at home on Sept. 25.
Pictured: Chloe Strom, Defense
The Moorhead Spuds football team has been practicing and is excited to play later this fall. The Minnesota State High School League approved a football season at their board meeting on Monday, Sept. 21.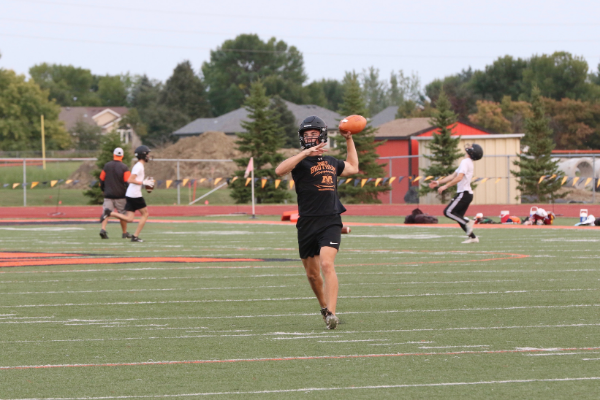 Trey Feeney practices his passing technique on the turf after the girls soccer win on Sept. 14.
Spud activity highlights is a weekly feature to keep you up to date on the latest Spud news! To find out information on upcoming games, check out the online athletics calendar.
Photo credit: Renee Grover