October 26, 2020
With a humble and calm presence, Grady Carlson, Moorhead High School art teacher, will be the first person to talk about his students' accomplishments before his own. Not only is Carlson an outstanding teacher, he is an award-winning artist whose art can be found in private, public, and permanent art collections throughout the upper midwest region, nationwide and internationally. He was selected to have three paintings permanently displayed in the U.S. Bank Stadium and most recently four paintings in the beautiful Block E building in downtown Moorhead. Through his daily instruction, Carlson is providing students with more than the basics of shape and color as he teaches the importance of art beyond the paintbrush. He teaches that creating is much more about the process than the end product.
Painting isn't just a creative outlet for Carlson, "I'm a happier person on days when I get a chance to paint or create," he says.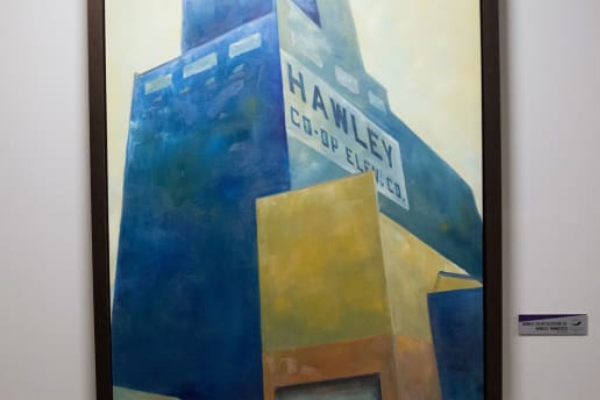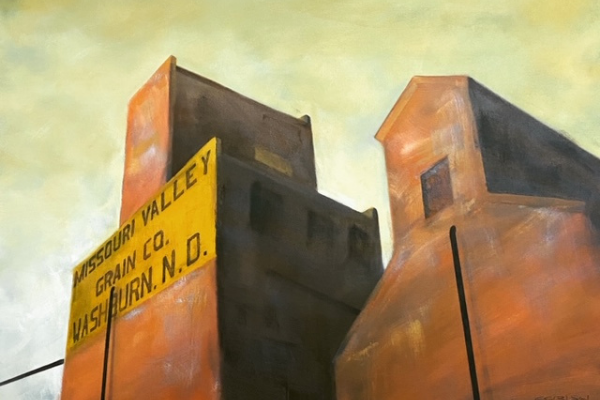 Carlson was originally unsure if he should submit his art as he didn't think it was what they would be looking for. With the encouragement of his former colleague, Michael Dunn, he went ahead and entered the call for Minnesota artists. Thanks to that experience, he now encourages his art students to enter various shows and contests. "I try to teach my students that you have to enter your art into shows no matter what. You have to hope for the best because you never know what someone is looking for."
A collaboration last year between the City of Moorhead and Carlson's advanced art class provided the perfect opportunity to showcase this lesson. Kim Citrowski, City of Moorhead assistant planner in the community development department, reached out to him to see if he would be interested in a project for his students. He quickly jumped on board. The students designed and painted utility cover and park bench designs for areas throughout the city. The designs were voted on by a group of community members and the winning designs were displayed.
Kate Stafford graduated this past year and had Carlson for three art classes. "When Mr. Carlson introduced the utility box project, I was excited to try something new. There was a lot of trial and error, and he encouraged me to explore different options. I even had to cut up my painting and glue it back together. He helped me try so many new things and I'm very thankful to have had his support throughout high school. He has encouraged me to pursue a career in art and I am currently attending MSUM to double major in Elementary and Art Education," Stafford says.

Moorhead High School alumni Kate Stafford stands next to a utility box she designed in a collaborative project between Moorhead High School students and the City of Moorhead last year.
Carlson's community connections also came in handy when the Plains Art Museum referred People Magazine to him for an article in the September issue. The article featured stories from a variety of administrators, teachers, parents and students from across the country.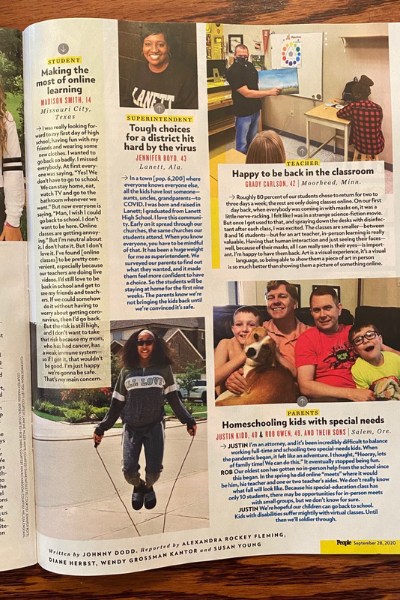 Although Carlson is a successful practicing professional artist, he feels that many of his greatest accomplishments are when his students succeed with their creations. His impact inside and outside of the classroom is clear, and we are proud to have him as part of the Spud Team.