November 11, 2020
The Moorhead Spuds hosted Senior night at Jim Gotta Stadium Thursday, Nov. 5 to recognize this year's graduating players.
On Thursday night, the Spuds faced section and Class 5A rival Brainerd. Senior quarterback Trey Feeney orchestrated the offense and threw six touchdown passes in the first half as the Spuds scored on six of their seven possessions.
The Walthall brothers were favorite targets as Brady caught two touchdowns and Blake (pictured above) led the team with three touchdown receptions. Jacqui Fitzpatrick caught one pass for a score, senior tight end Connor Heinsch caught a pass and then powered into the endzone for his first varsity score.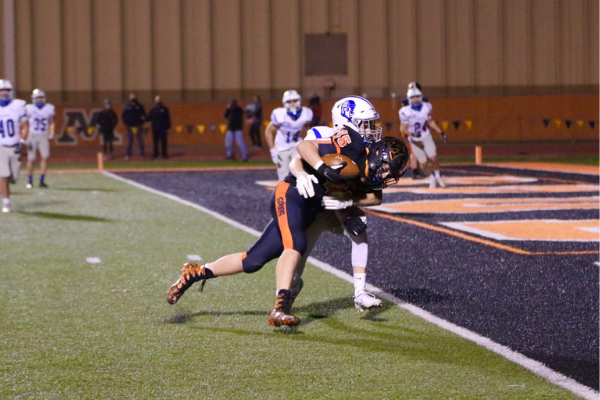 Senior Connor Heinsch forces his way into the endzone during the win against Brainerd on Nov. 5. Heinsch scored his first varsity touchdown. Photo credit: Renee Grover.
The first Feeney touchdown pass of the night was to Jacqui Fitzpatrick. The senior receiver made the catch of his life. This superb catch made ESPN's Top Ten Plays of the week.
The Spuds played their final regular-season game on Nov. 11 and will play in the section tournament coming up in November. The Section Tournament will be the final game for football as there will not be a state tournament event.
Moorhead played an away game in Bemidji on Oct. 27 and came away with a win, tallying 25-21, 25-16, and 25-18. Sam Zimmerman led the Spuds with nine kills and had three aces.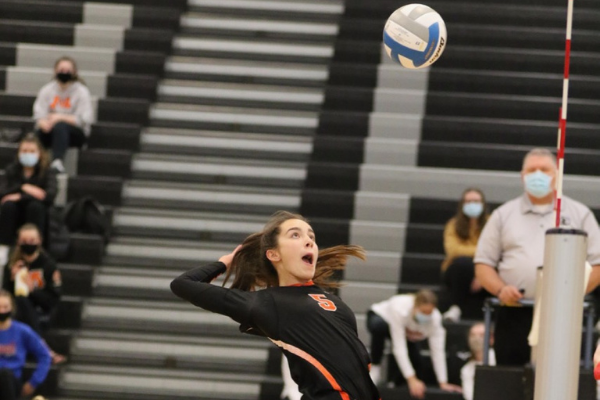 Sam Zimmerman goes up for a spike during the matchup against Alexandria at Moorhead on Nov. 2. Photo credit: Renee Grover.
Ella Swedberg had eight kills for the Spuds and two aces. Rosie Anderson had five kills and four blocks. Bryn Stumo and Mya Pfeifer each had four kills for Moorhead, and Stumo also had four blocks credited to her. Anna Knain and Alexa Gronwold had 17 and ten assists, respectively. The team will play again on Thursday, Nov. 12 in Sartell. ll.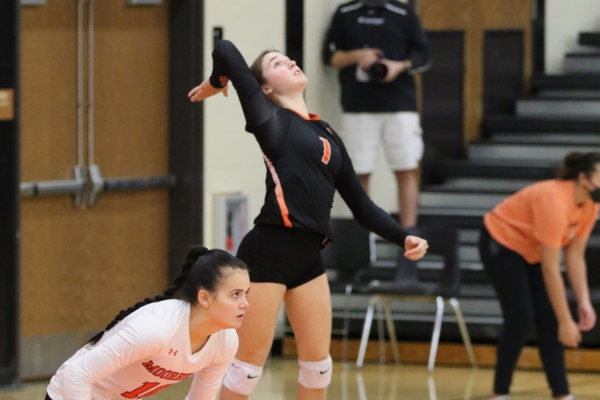 Carleigh Vedder serves the ball while Willow Carrier stands ready during the matchup against Alexandria at Moorhead on Nov 2. Photo credit: Renee Grover.
Spud activity highlights is a weekly feature to keep you up to date on the latest Spud news! To find out information on upcoming games, check out the online athletics calendar.