Moorhead boys soccer played the first round of the section tournament against Elk River on Oct. 14. Jibriel Gedo led the Spuds with two goals. Saif Allawi scored the third goal for the home team. Goal assists went to Max Hodny and Revar Qaqos.
Revar Qaqos makes an assist during the first game in the section tournament. Photo credit: Renee Grover
For the first time in Spuds boys soccer history, the team is undefeated. They have scored 46 goals and 32 assists through last Wednesday's game. The team's record going into Tuesday's game was 11-0-1. Moorhead will play Brainerd in the next round of the tournament on Oct. 21. If they win Wednesday's game, they will advance and play on Oct. 22 at the High Seed's field.
Moorhead opened their volleyball season in Ricori on Oct. 8, winning the game in three sets. The Spud home opener was on Oct. 15 where the Spuds beat St. Cloud Apollo in three sets. On Oct. 16, a matchup with Fargo Davies was added to the volleyball schedule. The Eagles who had played 23 games in their season were victorious over the Spuds who were playing their third game. The Spuds put up a fight keeping in the game 23-25, 25-27 and 19-25. Spuds volleyball will play again on Oct. 22 in St. Cloud against the Tech Tigers.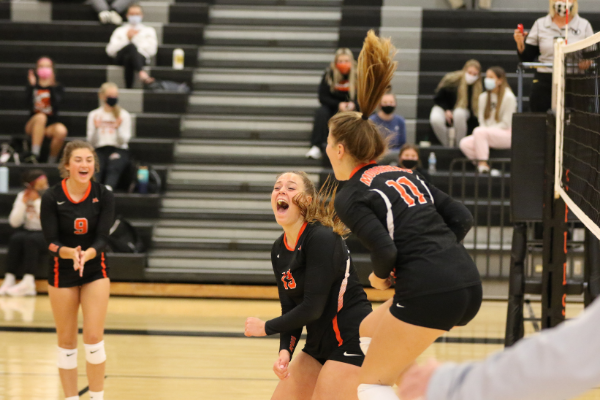 Riane Mohagen (9), Rosie Anderson (13) and Bryn Stumo (11) celebrate together while playing one of their first games of the season. Photo Credit: Renee Grover.
For the second week in a row, Moorhead rolled over their opponents under the Friday night lights. Alexandria came to town after a big win over St. Francis the week before. Trey Feeney led Moorhead's offense completing 22 of 36 attempts and passing for 226 yards and four touchdowns. Jacqui Fitzpatrick pulled down eight receptions for 63 yards and three touchdowns. Blake Walthall caught six for another 63 yards, and Brady Walthall was on the receiving end of 4 passes for 53 yards and had a touchdown of his own. Moorhead brought out their running game for this matchup as George Nyanforh rushed for 145 yards in 13 attempts, and scored two Spud touchdowns.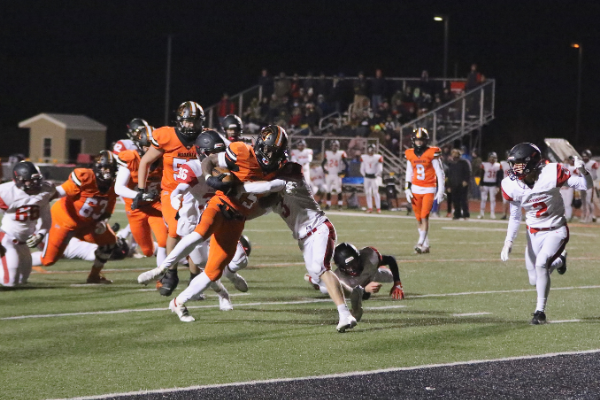 George Nyanforh scores a touchdown for the Spuds. Photo credit: Renee Grover.
On the other side of the ball, the Spuds played shut down defense as multiple players added stats to their resumes. Thomas Myers and Jamal Dixon pulled down three tackles each, with Myers adding 2 assists. Jackson Gotta, Cooper Sorby and Max Delbrune each had two tackles and three assists. Jack Newcomb, Austin Altepeter, Giulio Angotti, and Mahmoud Younis added two assists each in a night that saw the Cardinal's Nolan Morical who had a record-breaking rushing night the week before, be held to 62 yards in 17 carries. Alexandria was held to 139 yards and scoreless on the night. Moorhead takes the 42-0 win into week three and will play in Sartell on Oct. 23.
Another exciting moment during Friday's game was when Spuddy was given the Mascot Nickname Challenge award. John Millea, Media Specialist for the Minnesota State High School League created a Mascot Nickname Challenge bracket this summer. It was a 64-team NCAA tournament format, with voting done on Twitter, one round at a time. There were over 87,074 votes cast over the tournament which went from May 18 – July 1. The championship matchup between the Spuds and Blooming Prairie Awesome Blossoms garnered 6,872 votes. The Spuds won receiving 50.4 percent of the vote.
John Millea presents Spuddy with the Mascot Nickname Challenge Award. Pictured: Activities Director Dean Haugo, Minnesota High School League's Media Specialist John Millea and Spuddy. Photo credit: Bill Grover.
Spud activity highlights is a weekly feature to keep you up to date on the latest Spud news! To find out information on upcoming games, check out the online athletics calendar.