RDO Equipment Co. rolled in the big machines for students at the Moorhead High School Career Academy. In the first-ever RDO on Tour event, students had the opportunity to explore equipment and learn about career options.
After a brief presentation, students walked around to the various machinery to ask RDO employees whatever they wanted. Recruiting Program Manager Andy Luikens said, "This event has been absolutely awesome. Students are engaged, they're talking with the team and they're asking valuable questions."
Students like DGF senior Lyric Cogger enjoyed the hands-on learning opportunity. "I liked seeing the equipment," Cogger says. "I have never seen pieces of equipment like this up close." Students were hopping in the cabs and honking horns. Cogger said the Career Academy allows him to learn through trial and error, not just sitting and learning from a book. "My teacher will bring us into a work area and give us an example of what to do. Then, he lets us branch out and learn on our own."
RDO has outreached to schools before, but this new space allows them to bring in more than before. With the Career Academy right down the street from their showroom, they pulled out all the stops. "We can go a little bigger and better in the Fargo-Moorhead community because we are right here and we can get stuff over to the Career Academy with ease," Luikens said.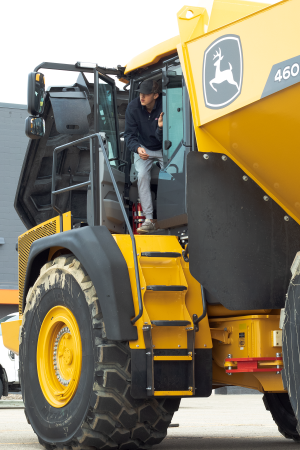 Moorhead High School junior Ethan Krone is glad to have the opportunity to learn from area businesses. "I'm still not sure what I want to do after graduation," he says. "These events at the Career Academy give me information on the possibilities I have." Events like this are what this space is for. Moorhead Area Public Schools is partnering with area businesses and organizations to provide students with personalized education. If you are interested in learning more visit our website to get in touch.