It was a cold December night and Brad Neznik was installing a candy cane days before Christmas. Across the street, a neighbor made her way over in her robe and slippers. She introduced herself excitedly to Neznik and the couple receiving the decoration. Feeling the winter chill, the couple invited everyone into their house full of cookies, hot chocolate, and cider. At that moment, the neighbor from across the street said, "we have been neighbors for 15 years, and we have never talked before." He thinks back on this memory in awe. "In that moment, I was reminded of what I enjoy most about making these … it's about getting people together," Neznik says.
Neznik, Outreach teacher at Moorhead High School, bought his first candy cane from Marlyn Bacon in Hutchinson, Minn. After moving to Moorhead, Neznik and his family put out their candy cane for the first year. His neighbor saw it and asked where he got it. He figured he could make her one, so he did.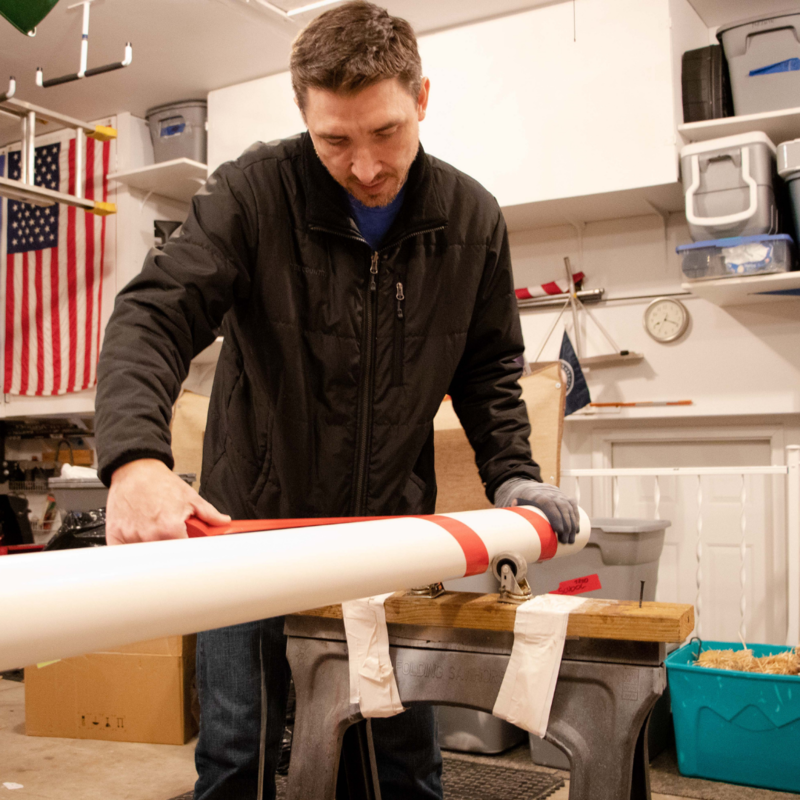 Since 2014, he has made over 750 candy canes and counting. He works full-time as a teacher and builds his whimsical decorations after work and on weekends. As a self-proclaimed busybody, Neznik feels fulfilled working on extra projects. "When you are teaching, you don't always see the results right away," Neznik says. "Although the results are very rewarding, they take longer to see. Doing these projects is the antidote to the long stride teaching requires."
After he made a few candy canes, neighbors got wind of the maker behind the magic and word started to spread. When Neznik received an order for 32 at one time, his process had to change. "At that point, I had only made about two or three at a time," he said. "I never wanted to have to turn anyone away, so I had to think about how I made them and adapt to become a bit faster."
He makes these cheer inducing decorations from materials bought locally. He used PVC pipe, lights, and colored tape. The candy canes are not only a decoration, they speak to being a part of a community. Last year, a family was sick and they were unable to put up decorations during the holidays. The entire neighborhood noticed that they were the only house without lights. The neighbors got together and paid for a candy cane to be delivered. That was their only light that year. "It makes me happy hearing the stories and making other people happy," Neznik says.
Neznik makes every effort to build community for his students in the classroom and for his community, one candy cane at a time. It's what drives him. He has found that bringing people together is about finding something in common, and that can be as simple as a candy cane in your yard.